Garrett GT2260S PowerMax Turbocharger - VW MK7 & 7.5 Golf GTI, ED40, TCR & R.
*SUPPORTS UP TO 360KW*
*FITS ALL VW MK7 & 7.5 GOLF GTI, ED40, TCR & R MODELS*
The Garrett PowerMax™ turbocharger range is engineered to increase engine performance while maintaining OEM installation specifications.
The GT2260S can be directly bolted on as an upgrade with full stage 2 hardware.
More power can be made with aftermarket LPFP, HPFP and E85 as this is a journal bearing turbo with 17% more flow compared to stock IS38, maximising efficiency and air flow compared to the OEM turbocharger.
The Mar-M alloy turbine wheel and twin scroll stainless steel turbine housings are rated for up to 1050° C. 
These turbochargers are fully assembled with a calibrated electronic actuator and ancillary components for direct OEM fitment.
Stage 1 Features:
• Direct-Fit
• 360kw rating
• 47mm compressor inducer, 60mm compressor exducer
• 50mm turbine inducer, 45mm turbine exducer
• 17% flow increase compared to IS38 turbo
• GTX Gen II compressor wheel aero
• Modern gasoline turbine wheel aerodynamics constructed of Mar-M alloy
• Stainless steel turbine housing rated for up to 1050C
• Fully machined speed sensor port
• Latest generation of journal bearing rotor group
• 360 degree thrust bearing, reinforced for application
Turbocharger Data:
| PowerMax PN | Stage | Power | Model | Comp Ind | Comp Exd | Turb ind | Turb Exd |
| --- | --- | --- | --- | --- | --- | --- | --- |
| 898199-5001W | Stage 1 | 485HP | 362kW | GT2260S | 47mm | 60mm | 50mm | 45mm |
*WARNING: Maximum allowable turbocharger speed is 185krpm*
The use of this product above max turbocharger speed is at the owner's risk, and can result in damage and premature failure.
To protect the turbocharger from overspeed when operating, speed sensor ports are machined into the compressor housing for the fitment sensor part numbers 781328-0003 (includes sensor and gauge), and 781328-0004 (includes speed sensor). Attainable via special order.
Please contact us if you wish to obtain these parts or have any questions
*Performance results of this product are highly dependent upon your vehicle's modifications and tuning/calibration. The target power has been calculated based strictly on choke flow of the compressor map (total turbo capability), which represents the potential flywheel power. 

See UGP & FullBOOST impression of these new turbochargers below
Horsepower & torque data & results:
• AUDI TT 2.0 TFSI (EA888 Gen 3)
• Garrett PMAX Stages 1 and 2 upgrade turbos
• Larger intercooler
• Custom exhaust system
• Reinforced pistons - lowered compression ratio of 9.2:1
• Upgraded fuel system - larger high pressure fuel pump and larger injectors
• Transmission upgrades - software upgrade only
• Cylinder head upgrades - valve springs only
• Fuel - 98 octane unleaded (Stage 2 also run with ethanol mixture)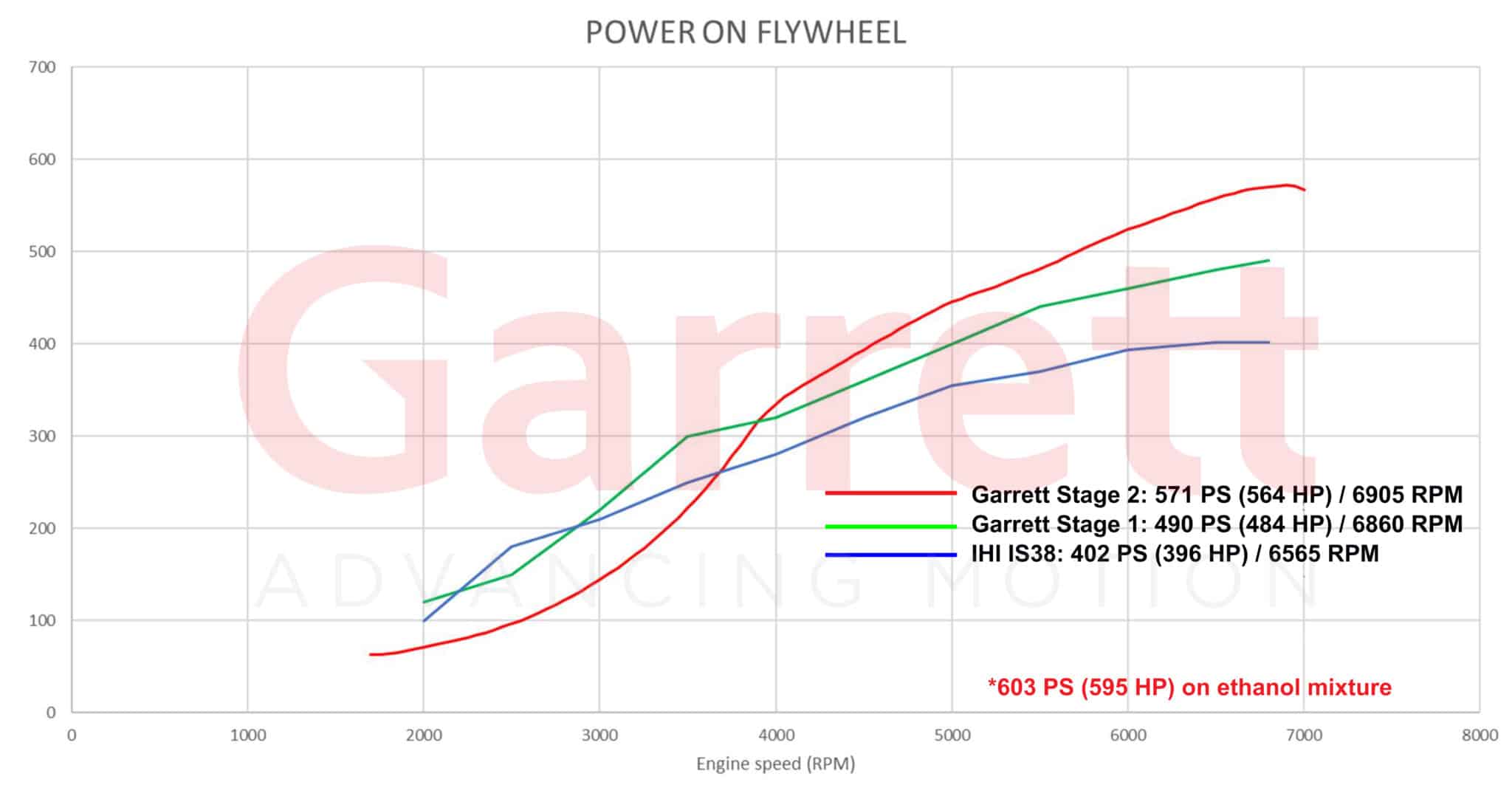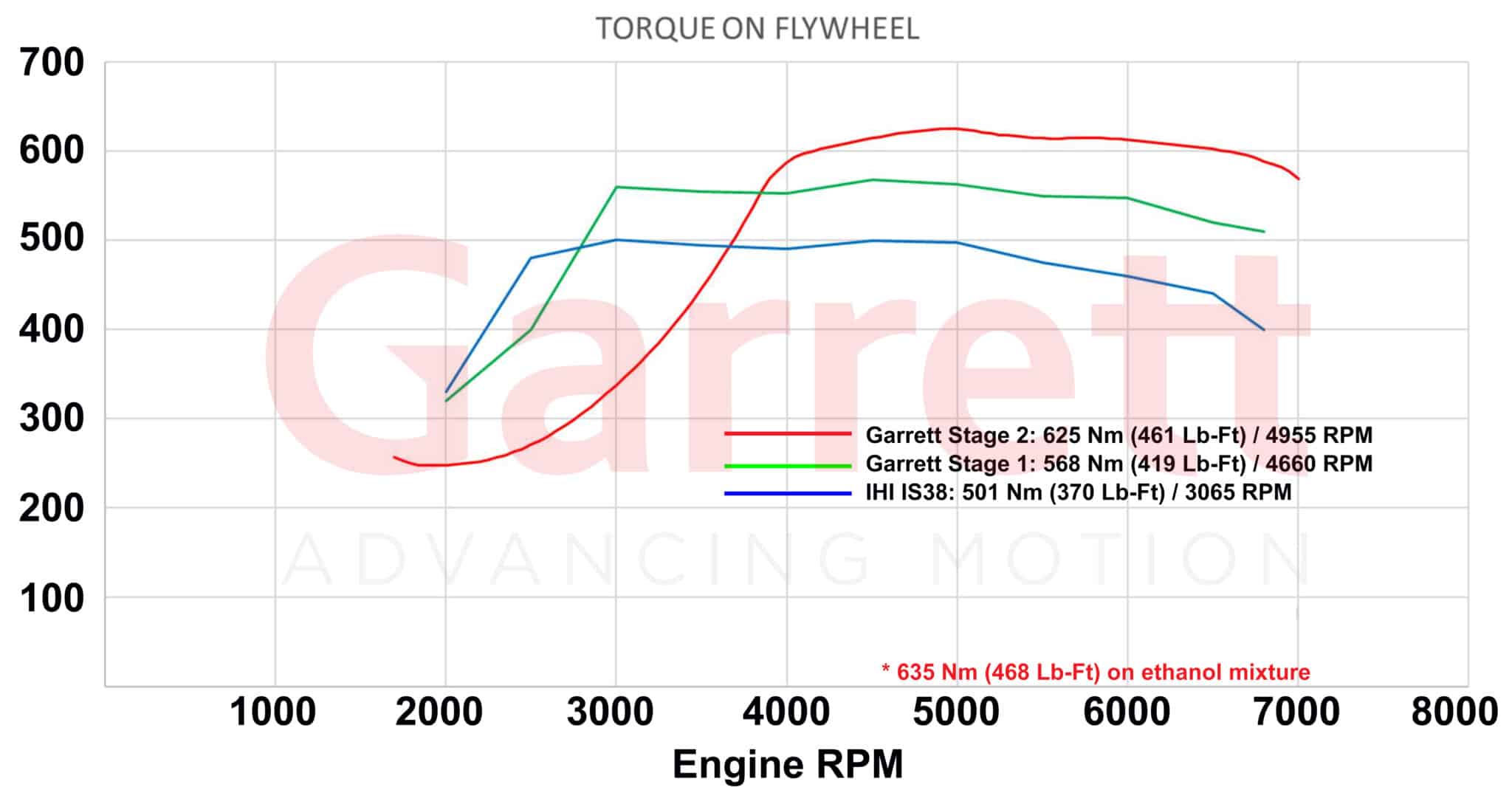 Included:
- Garrett GT2260S turbocharger
- Appropriate install hardware
*Please note that in some cases additional hardware such as gaskets, washers and bolts may be required when installing this turbocharger*